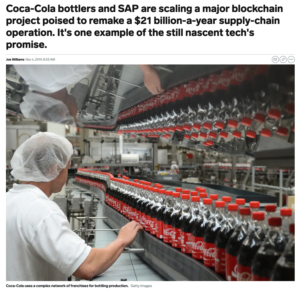 Though I can't share any examples of the work I did, I can share a project I worked on as it was talked about in Business Insider. My role at SAP was that of Design Consultant in SAP Innovation Services for Blockchain projects. For this particular project, I was the researcher, design-thinking facilitator, information architect, and user experience designer.
The key to making this successful was the ability to work within a very constrained timeline with constrained resources to be able to research as much as possible by having everyone involved take me through their current systems and then bringing everyone together into the SAME ROOM to do our design-thinking session that spanned 3 days.
This session helped us dive deep into their processes and provide a laser focus on exactly where blockchain could help them as a consortia of companies and then go a level deeper and focus on where it could help individuals by improving data management. The trick was figuring out how to show what the blockchain was doing as it is a largely backend system and in this case simply provided the single source of truth for two different ERP systems.
To that end, I designed a reporting feature utilizing SAP Build and SAP's Fiori design system that allowed administrators and warehouse management to be able to have a streamlined view into the data on the blockchain rather than having to pull reports out of the ERPs and shipping systems. The reason why this was successful was because I was able to work directly with the people who worked with the data and I solicited from them exactly what they needed, why they needed it, and how it could be improved to help them.